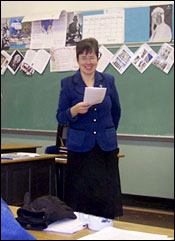 Visit my blog at www.kathleenglavich.org
I am a Sister of Notre Dame, who joined my international community right after my 18th birthday. A veteran educator, I belong to a community whose primary ministry is education and has a reputation for excellence in this field. (See www.sndchardon.org.) My "nun name" was Sister Kirene for the chi-rho, a symbol for Christ. My feast day is Christ the King, which I still observe even though I now go my baptismal name Kathleen.
Iíve taught in grade schools and high schools, in Catholic schools, and in CCD programs. For three years I served as vocation director (recruiter) for my community and for the Diocese of Cleveland. Most recently, Iíve been the director of the Parish School of Religion at St. Dominic Parish and am now its catechetical resource person. Currently I am on the parish staff at St. Dominicís Parish in Shaker Heights.
Writing History
I began writing for publication in 1979 while I was teaching religion and English at Regina High School. At the prompting of an older Sister, Sister Dolora, I submitted a reflection paper on religious life for publication. The paper had been a requirement at the end of a retreat. To my delight it appeared as an article in Review for Religious.
After being bitten by the writing bug, I would correct all my studentsí papers Friday night and plan the next weekís lessons on Saturday. This left Sunday free to write. On that day I would rise at 6:00 a.m. to spend as much time as possible writing articles. I had several articles published in different magazines and journals, including one in the Sunday Magazine of Clevelandís The Plain Dealer. Encouragement came from many sources. After reading my article in Review for Religious, a bishop in Nigeria sent me an airmail letter and quoted Blessed Teresa of Calcutta: "Write, for if your writing should make anyone more aware of God and their neighbor, then you must write."
My writing hobby turned into a full-time ministry for the first time when I was assigned for two years to the team of sisters writing the Benziger high school religion series Light of the World. Later I became general editor of my communityís Loyola elementary school religion series Christ Our Life, and saw it through three revisions over a span of 13 years. I also was editor and author for a childrenís version of the Little Rock Scripture Study published by Liturgical Press. For two years I wrote a column in Religion Teacherís Journal.
Education
A native of Cleveland, Ohio, Iíve lived out of state only one year. I hold a BA degree from Notre Dame College of Ohio and have been president of its Alumni Association. I earned an MA degree in secondary education (English) from the University of Minnesota, flying there every summer for seven years.
Speaking Engagements
Occasionally I speak at national and diocesan conventions and give workshops and retreats. In fact, my first book was the result of the first time I spoke in public. It was at the NCEA convention in Anaheim. After putting so much work into the talk "Twenty-Six Ways to Lead Students into Scripture," I decided to give it a longer life by turning it into 26 chapters, which Twenty-Third Publications published as Leading Students into Scripture.
Hobbies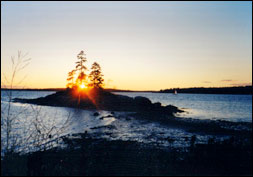 Like many writers, I am a voracious reader. I also enjoy taking beautiful pictures especially of nature. Another hobby of mine is tatting, the art of lace-making practiced by the fine ladies of 17 and 18th century Europe, who often appear in their portraits tatting shuttle in hand. I prefer to be photographed with a book in my hand. For three years Iíve volunteered as an usher for the Cleveland Orchestra in Severance Hall, and I enjoy playing the piano (which I donít do at Severance Halló but I did accompany Julie Billiart School children for their program celebrating their 50th anniversary in 2004).
Writing
For me writing is a way to live out my faith, work for Jesus, and help bring peace, justice, and love into the world. At the same time, I love the creative act of writingófinding just the write words to express something, presenting things in a unique way, polishing a piece, and especially touching someoneís life. Itís a joy to be able to do something that is so personally fulfilling.