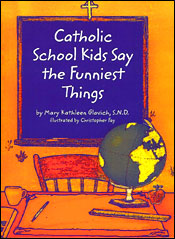 ISBN 0-8091-4106-X
139 pages $9.95
Trivia
Dan Goggin, the creator of the Nunsense musicals, comments on the book: "Sister Mary Kathleen's collection of stories brings back so many amusing memories of my own Catholic school upbringing. Her book is totally entertaining, and I guarantee it will put a smile on your face and lift your spirits."
Catholic School Kids Say the Funniest Things
This book is a collection of anecdotes from Catholic classrooms that will make you laugh out loud. The stories are true tales from the Sisters of Notre Dame. Christopher Fry's illustrations suit the book to a T. The book makes a delightful gift for anyone who has been associated with a Catholic school. One sample:
Sneaking Up on Jesus

A teacher traveling to church with her small students reminded them to walk quietly especially going up the creaky stairs. She said, "Try to be so quiet that even Jesus will be surprised we're coming." The children obeyed conscientiously. They tiptoed to the church and opened the door. Suddenly, one child gleefully shouted, "Surprise!"
Publisher
Paulist Press
800-218-1903
997 Macarthur Blvd.
Mahwah, NJ 07430
www.paulistpress.com